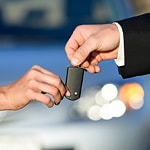 Deciding why to refinance or trade in your car is much easier than it sounds. Once you decide, the next steps are easy. Here is our Conroe, TX Gullo Mazda of Conroe finance department team's recommendations on when to refinance vs. when to trade-in.
When to Refinance
Refinancing is more about the 'why' than the 'when.' Why should you refinance your car? Refinancing allows you to keep your car while negotiating a new auto loan interest rate. You could negotiate new loan terms. You could find a better APR. You could save money on interest, or you could lower your monthly payment. Either scenario could potentially put thousands of dollars back in your pockets monthly.
When to Trade-In
When should you trade-in your car? When you want a new car. Trading lets you use your current car's value to put a dent in your new car's bottom-line costs. To gauge trade-in value in advance, check Kelley Blue Book or NADA guides. Dealers may also adjust trad-in value according to vehicle condition, popularity, make and model.