The Mazda6: Featuring The Exciting 2.5L Turbocharged SKYACTIV Engine!
It's hard to perfect greatness, but that's exactly what Mazda sought to do with the Mazda6. What started out over ten years ago as a simple sedan has evolved into something much more. And we are extremely proud to introduce it to our local customers.
Not Your Standard Sedan
When the Mazda6 was first introduced in 2003, it was already a solid sedan. Over the years, Mazda has only been improving on that platform. And the new model is even better than the last. The exterior has been completely redesigned, all the way down to LED lighting and wheel designs. The outside isn't the only thing that's changed, it's what's on the inside that counts.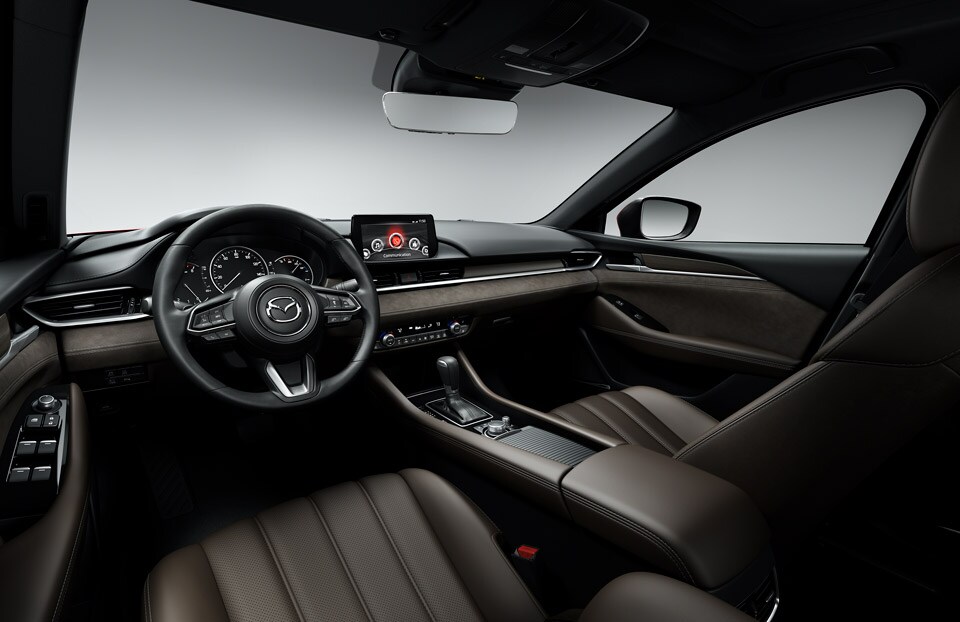 While the Mazda6 comes in six different trim levels, each one has quality offerings. The Sport trim offers the SKYACTIV Drive 6-Speed automatic transmission with Sport Mode, guaranteed to give you a thrilling ride at an affordable MSRP. If you're looking for more power look no further than the Mazda6 Grand Touring. With a 250-hp SKYACTIV G2.5T Dynamic Pressure Turbo, this sedan is more than meets the eye. Of course, if you're interested in a more luxurious ride, the Signature trim was made for you. Premium Napa leather, real wood accents, and more - you deserve to ride in style.
The Mazda6 is packed with a range of standard and available features to create a refined cabin space. Dual-zone climate control, heated seats, and a leather-wrapped steering wheel accentuate passenger and driver comfort. Available Bose audio can make your favorite music or podcast sound as good as ever. Active safety systems can help you stay alert on the road.
The Ride
Of course, all of these updates would be pointless if the Mazda6 didn't ride well. With the new reinforced body structure and chassis, you can expect reduced noise, vibration, and harshness wherever you're driving. Thanks to re-tuned suspension and steering, the handling has also improved.
Mazda designed its midsize sedan to provide an engaging driving experience. Its SKYACTIV 2.5-liter engine produces a peppy 184 horsepower and 185 pound-feet of torque. While many auto makers, are steering away from manual transmissions, the Mazda6 comes standard with a six-speed stick-shift transmission. Drivers can also opt for the six-speed automatic with manual shift and sport mode. SKYACTIV-VEHICLE DYNAMICS with G-VECTORING CONTROL help the Mazda6 maintain direct handling in a variety of conditions.
Safety
You take you and your passengers safety seriously, so does Mazda. The Mazda6 now comes with a surround view camera system and an Active Driving Display head-up system. Along with this, the Mazda6 also features Dynamic Stability Control (DSC) and Blind Spot Monitoring with Rear Cross Traffic Alert.

This all comes with the spacious interior of a sedan. It's hard to believe Mazda could make a sedan that quite frankly, doesn't feel like a sedan. All without sacrificing the room and size that is expected. Whether it's the cloth-trimmed sport seats of the Mazda6 Sport or the leatherette-trimmed seats of the Mazda6 Touring, your passengers are sure to appreciate the comfort that comes with the Mazda6.
With a diverse range of trim levels, the Mazda6 has something to offer for every driver. If you're looking for luxury, the Signature leaves little to be desired, or if you're just looking for something fun to drive with the comforts of a sedan, the Touring is the answer. Visit us today to learn more about what's changed in the Mazda6. You won't be disappointed.